Media blasting of the  interior ceiling after stain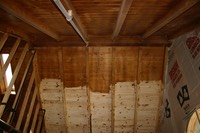 40 years of combined log home and log restoration expertise.  
Welcome home with Beamer's Better Builders, owned and operated by Danny Beamer from the beautiful Blue Ridge Mountains of VA.  When Danny finishes your project you will feel a new sense of  "Welcome Home" every time you walk in.  Over 40 years of combined log home expertise.
Top Quality Services

* Media Blasting

* Pressure Washing

* Chinking

* Staining

* Caulking

* Log Restoration

* Log Replacement

* Preservative Treatment

* Historical Log Preservation

* Set up to Travel if needed



Beamer's Better Builders does a superb job on every project they complete.   Anyone can stain, chink, caulk, and repair a log home but not everyone can do it right.  Don't make the costly mistake of having to re-stain your home every couple of years.  Let Beamer's Better Builders show you a better way to avoid costly re-applications by doing it right the first time.



The name says it all,

Beamer's Better Builders

, better for a reason,                                

"Pride in workmanship"

and

"Attention to detail."
Browse the site to see for yourself the top quality log home restoration work that Danny can do for you.  Call 276-755-3094 today or     e-mail now to see how Danny can serve your log home needs.
                                           Log Home Services in the following areas:
  Virginia, North Carolina, South Carolina, Tennessee, Florida, Alabama, Mississippi, Louisiana, Colorado, New York, Maine, New Jersey, Vermont, New Hampshire, Connecticut, Pennsylvania, Maryland, Delaware, Arkansas, Missouri, Kentucky, Ohio, Indiana, Illinois
Beamer's Better Builders specializes in turn key log home restoration services.  While others offer limited services, Beamer's Better Builders offers ground up log repair and replacement services as well as pressure washing, media blasting, chinking, caulking, staining, and hand hewn log work to make even the oldest cabins log repair and replacement look authentic and historically correct.  Call 276-755-3094, today or e-mail now.
Why settle for less, when you can choose the best!